What is Fotona Dynamis SP?
The Fotona Dynamis SP is a state-of-the-art laser system used in various medical and aesthetic treatments. It is designed to address a wide range of concerns and provide effective, precise, and safe treatment outcomes. Here are a few key points to consider: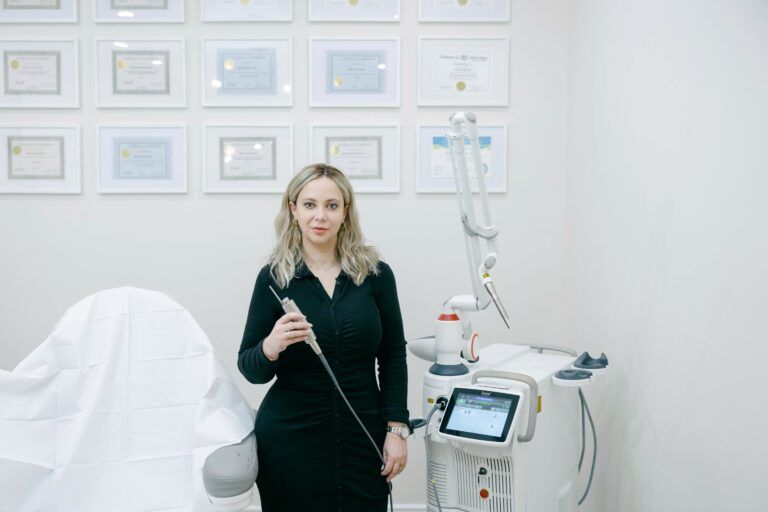 Versatile Treatment Options: The Fotona Dynamis SP offers a wide range of treatment options, including skin rejuvenation, wrinkle reduction, and vascular lesion treatment. These treatments can help improve the appearance of your skin, reduce signs of aging, and address specific concerns.
Dual Wavelength Technology: The system utilizes two laser wavelengths, Nd:YAG and Er:YAG, which allow for customized and targeted treatments. The Nd:YAG wavelength is often used for deeper tissue treatments and hair removal, while the Er:YAG wavelength is used for skin resurfacing and rejuvenation.
Minimized Discomfort and Downtime: The Fotona Dynamis SP is designed to provide effective treatments with minimal discomfort and downtime. However, the level of discomfort and recovery time may vary depending on the specific treatment and individual factors. Our specialists will discuss the expected experience and recovery with you.
Qualified Practitioners: Fotona Dynamis SP treatments should be performed by qualified technicians who are trained and experienced in using the system. Make sure to choose a reputable clinic or practitioner with the necessary expertise to ensure safe and effective treatment.
Consultation and Individualized Treatment Plans: Before undergoing any Fotona Dynamis SP treatment, it is important to schedule a consultation with one of our specialists. They will evaluate your concerns, assess your skin condition, and recommend a personalized treatment plan that suits your needs and goals.
Safety Precautions: While Fotona Dynamis SP is considered safe, there are some general safety precautions to follow, such as avoiding sun exposure before and after treatments, using sunscreen, and adhering to post-treatment care instructions provided by your medical aesthetician.
Remember, it is crucial to have realistic expectations regarding treatment outcomes and to discuss any concerns or questions you may have with your medical aesthetician.
Please note that this information is a general overview, and the specific details of your treatment and its suitability for your unique situation should be discussed with a qualified specialist who is trained in using the Fotona Dynamis SP system.