At Philosophy of Beauty in Vaughan On, we have the medical expertise to offer a variety of chemical peel options to our clients. One of the most popular, non-surgical skin transformation tools we have is the chemical peel. 
As we age, the natural exfoliation process of our skin slows down as does the production of collagen. Chemical peels work wonders for our skin to kick start the healthy regeneration, hydration, and firming process. Whether a light, "lunchtime" peel, or a more intensive and corrective treatment, it is one of the most effective ways to naturally reveal fresh, radiant skin.
The chemical peel acquired its name because it effectively exfoliates one or more surface layers of skin with naturally sourced acids. The result is gentle peeling of the dull surface layers. This process can be subtle with mild peels or work through deeper layers so that thin sheets of dry skin, peel for 3-7 days post-treatment. 
The outcome is smoother skin texture and even skin tone. Additionally, numerous skin benefits are possible with peels which makes them extremely versatile anti-aging and rejuvenating treatments.
Chemical Peels Are a Safe, Natural Solution to Target:
The fine lines and wrinkles caused by loss of collagen and age
Acne and acne scars
Skin laxity and sagging
Blotchiness and uneven skin tone
Hyperpigmentation and freckles caused by sun exposure
Enlarged pores
Melasma due to medication or pregnancy
Dead cells and debris build up in pores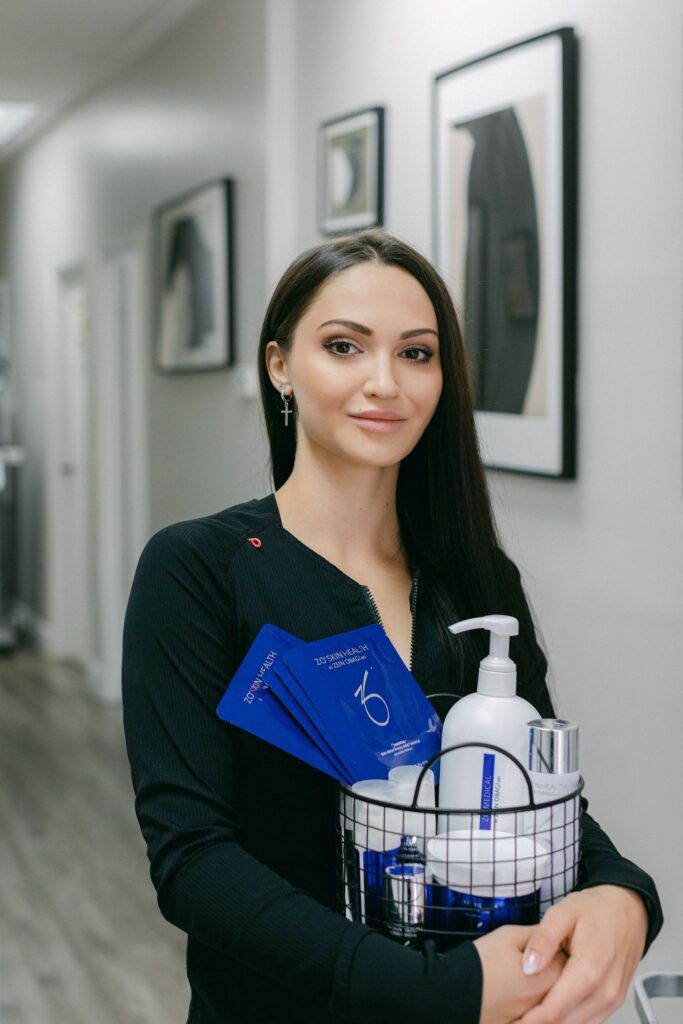 Dr. Zein Obagi invented the original Obagi Blue Peel, and the Controlled Depth Peel, both used in clinical settings. ZO Controlled Depth Peel provides epidermal and deeper, dermal stimulation combined with stabilization technology for a fast recovery and impressive results.  
This peel is formulated with a concentration of trichloroacetic acid buffered for a variety of skin types, which means we can precisely tailor your treatment for your exact skin needs. This peel allows the practitioner to customise the strength of the TCA to individual needs, and to correct specific skin conditions, according to a standardised guideline. In this way, the practitioner can predict the outcome and success of the procedure to correct specific skin defects or to obtain a specific desired transformation. This procedure works to remove the thin layers of damaged surface skin. The treatment takes about 40 minutes to execute, depending on the number of coats of active peel solution to be applied to determine the necessary planned outcome. With a healing time of 7-11 days, the ZO Controlled Depth Peel treatment offers a safe method of achieving radical skin restoration results, with comparable recovery time equal to alternative deep ablative and non-ablative laser treatments.
Once the redness has subsided, you can expect new skin to show a dramatic reduction of previous fine lines, pigmentation issues, and other blemishes. The complexion is smoother and firmer with evened tone and a glow.
ZO Controlled Depth Peel can help improve: 
Brown spots, age spots, and uneven pigment

Melasma

sun-damaged skin

Acne scarring

Acne and post-inflammatory hyperpigmentation

Fine lines and wrinkles

There is a protocol recommended for the ZO peel which is designed to strengthen and prepare skin for maximum benefits. 4-6 weeks prior, the ZO Hydroquinone or Non-Hydroquinone system can be used by the client at home to prep for dramatic results. 
It is not uncommon for our skin to require healing and repair after a summer of sun exposure or a vacation away. The ZO® Skin Brightening Treatment is customized to specifically target uneven, sun-damaged and discoloured complexions with a 60-minute facial. Our faces suffer the damaging effects of frequent sun exposure and this can not only lead to the development of fine lines and wrinkles, but hyperpigmentation caused by the sun will also leave the complexion appearing dull and aged. Microdermabrasion, StimulatorPeel® and an exclusive ZO brightening mask work in harmony to remove excess and uneven pigment, leaving a smooth, even-toned glow and rejuvenated appearance. This treatment is essential for many of us to start fresh as we change seasons.
ZO® Ultimate Regeneration Treatment
Who doesn't want an ultimate, all-in- one facial treatment? Dr. Obagi's luxurious formulas are combined based on your, specific needs and a combination of factors such as sun damage, dehydration and acne. During this 1-hour medical facial, Bio-Hydroderm™ is used with the best ZO products to improve the nature and appearance of your skin. When you can't decide what your skin needs- don't worry, this one's for you.
ZO® TREATMENTS
OSSENTIAL® STIMULATOR PEEL
This powerful, 1-hour peel is a rare combination of highly concentrated acids which smooth and regenerate the skin, while remaining gentle. Consequently, the Stimulator Peel requires no downtime, which we think is amazing given its dramatic results. Revealing smooth, healthy skin is this peel's specialty.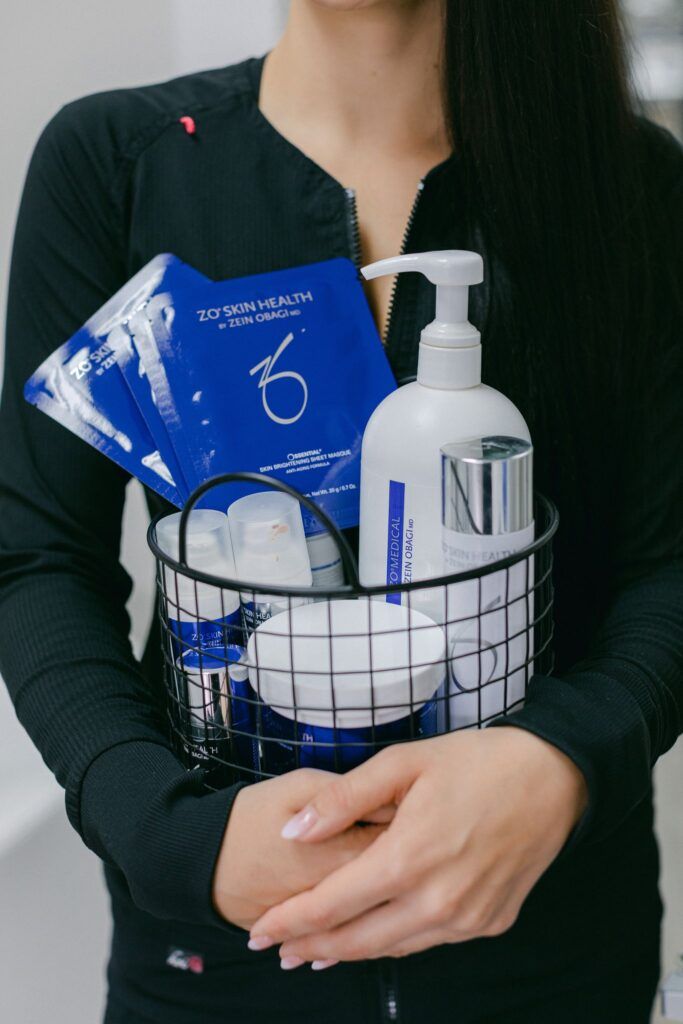 ZO® ACNE CLARIFYING TREATMENT
Acne remains the most common skin disease and a big problem for our clients of all ages. Acne treatment products which are sold in drugstores can be a source of frustration as they strip the skin's delicate oil balance and irritate already sensitive skin. In 60 minutes, the ZO® Acne Clarifying Treatment delivers painless extractions, a Sulfur Masque to target bacteria and cooling, skin calming products to soothe inflammation and encourage healing. The ZO® acne treatment is a great way to achieve and maintain clear skin.
THERAPEUTIC BACK TREATMENT
For many of our clients, the back can be a problem area for breakouts as well and due to it's difficult-to- reach location, regular exfoliation, application of sunscreen and quality skin care products in this area can be difficult. The back can be shown off with confidence when you've treated yourself to a relaxing, 1 hour back cleanse, exfoliation and mask using the best of medical grade ZO skin care products.
LUNCHTIME STIMULATOR PEEL
For those of us who are short on time- the Lunchtime Stimulator Peel is a fast, easy skin changer. During this 20-minute power peel, and thorough exfoliation targets aging skin, damaged skin cells and uneven skin tone. Return to your daily activities with no downtime. Our clients see visible improvement in just one treatment and make up glides on smooth right after, though you may not need any.
NOURISHING ORASER® HAND TREATMENT
Another fast and easy favorite, at 20 minutes, this caring combination of products and treatment are designed to heal, soften and revitalize the look of your hands. Our hands work hard and just like the face, they are often exposed to damaging sunlight as well as harsh cleansers and products. The specially fomulated ZO Oraser® combines with Microderm Hand Renewal and a deep massage in this all-in- one hand fix. Your hands will thank you for the Nourishing Oraser® Hand Treatment to soften, hydrate and even skin tone.