What Is CO2 Laser Treatment?
CO2 laser treatment, also known as carbon dioxide resurfacing, is a non-surgical procedure that involves the use of a CO2 laser to remove the superficial layer of the skin without damaging surrounding structures. This treatment is commonly used to address various skin conditions. During the procedure, pulses of laser light from the CO2 laser penetrate the skin's surface and are absorbed by the water in the skin. This process vaporizes the topmost layer of skin, called the epidermis, while also heating up the middle layer of skin, known as the dermis. The heat stimulates the growth of new collagen fibers, resulting in newer and firmer skin replacing the older layers during the healing process. CO2 laser treatment is a popular option for skin rejuvenation and can provide noticeable results in improving the texture and appearance of the skin.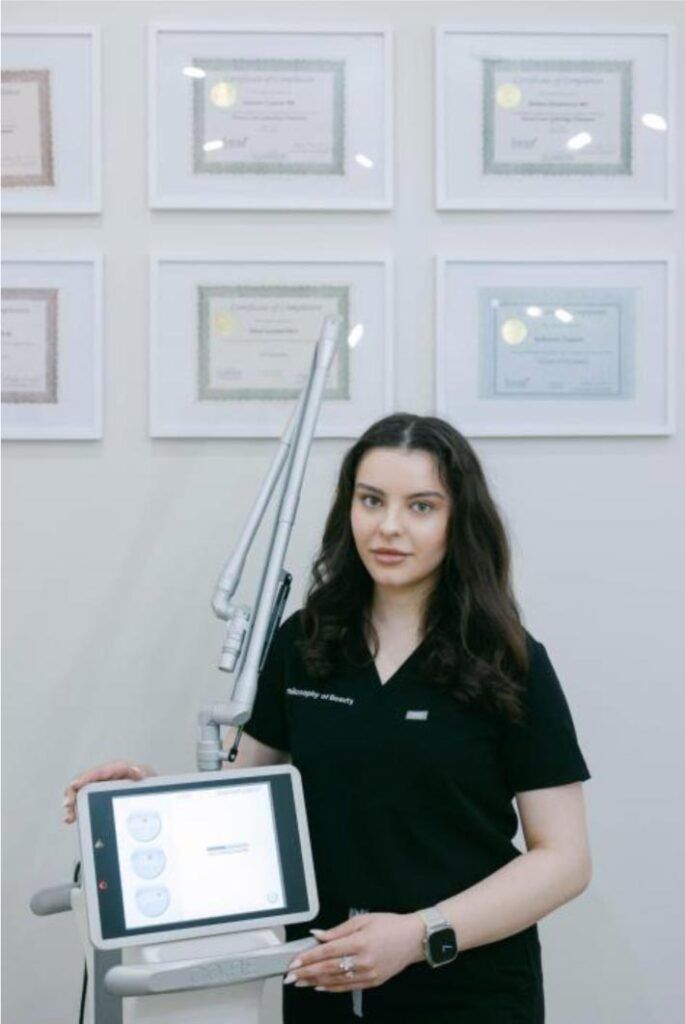 CO2 laser treatments are indeed versatile and can address various cosmetic and medical skin conditions, as you've mentioned. Here are some examples:
Signs of aging: CO2 laser treatment can help reduce the appearance of fine lines and wrinkles on different areas of the face, such as crow's feet, forehead wrinkles, laugh lines, and marionette lines around the mouth. The laser stimulates collagen production, which can lead to overall skin improvement and a more youthful appearance.
Sun-damaged skin: CO2 laser treatments can target the effects of UV damage on the skin, including wrinkles, sagging skin, liver spots, sun spots, spider veins, and rough or uneven skin texture. The laser can resurface the skin, promoting the growth of new, healthy skin cells.
Acne scars: CO2 laser treatments can help improve the appearance of acne scars by stimulating collagen production and smoothing out the skin's texture. The effectiveness of the treatment may depend on the type and severity of the acne scars, so consulting with an aesthetic professional is recommended for personalized advice.
Warts: CO2 laser treatments can be effective in treating warts that are resistant to other types of treatments. The laser can target and destroy the wart tissue without harming the surrounding healthy skin.
Loose or bagging skin around the eyes: CO2 laser treatments can tighten loose skin and improve skin elasticity, which can help address baggy or hooded eyelids caused by loose skin above the upper and lower eyelids.
Sebaceous hyperplasia: CO2 lasers and other lasers can effectively remove waxy bumps formed from sebum trapped in oil glands, resulting in smoother skin and preventing their recurrence.
Skin cancer: CO2 lasers can be used by dermatologists to prevent and treat skin cancers, as they can precisely target and destroy cancerous tissue without harming the healthy surrounding tissues. CO2 lasers are also effective against pre-cancerous conditions such as actinic keratoses.
It's important to consult with an aesthetic professional at Philosophy Of Beauty to determine the most appropriate treatment plan for your specific skin concerns. They can provide expert advice and customize a treatment approach that best suits your needs and goals. Overall, CO2 laser treatments can be a valuable option for addressing various skin conditions and achieving desired cosmetic and medical outcomes.
It is important to carefully follow the instructions and guidance provided by your aesthetic professional prior to your CO2 laser treatment. Don't hesitate to ask any questions about what to expect during and after the treatment. Here are some general pre-treatment guidelines that may be beneficial:
Avoid sun-tanning or prolonged sun exposure for at least 4 weeks before your CO2 laser treatment.
Refrain from taking doxycycline or other medications that cause sun sensitivity for at least 3 days before your CO2 laser treatment.
If you have a history of HSV (herpes simplex virus) or shingles, take appropriate antiviral medication for a few days before and after your CO2 laser treatment.
Quit smoking for two weeks before your CO2 laser treatment, as smoking can adversely affect the body's natural healing ability.

Following these guidelines can help ensure that you are well-prepared for your CO2 laser treatment and can optimize the results of the procedure. It is always best to consult with your aesthetic professional at Philosophy Of Beauty for personalized pre-treatment instructions based on your individual needs and medical history. So, don't hesitate to seek expert advice and guidance for a safe and successful treatment.
Philosophy Of Beauty
Our clinic, conveniently located in North York and serving Vaughan, Thornhill and the Greater Toronto Area, offers a range of treatments for the face and body to enhance your confidence. If you're interested in learning more about how we can help you achieve your aesthetic goals, please give us a call at 905-669-0306 to schedule a consultation. We look forward to discussing your unique needs and providing you with exceptional care.
CO2 laser, Toronto's premiere skin resurfacing technology, is also a popular treatment at Philosophy of Beauty. The CO2RE™ Syneron device is a respected, effective CO2 laser system, proven safe for non-invasive treatment of wrinkles, sun damage, acne scarring and much more. Are you ready to reveal dramatic skin rejuvenation? Learn why this is a gold-standard treatment for facial laser resurfacing.